settings.tab.title.demo
How does pricing work?
---
Pricing is based on various factors such as... 1) Venue 2) Date & Time
3) Duration
4) Type of music 5) Special music requests such as wedding intros or remixes. 6) Lighting, lasers and smoke.
7) Sound system 8) Staging
9) Trussing 10) Staff including DJs, MCs, lighting technician, event planner, music director, roadies. 11) Type of event. School dance, Wedding, Corporate Event, In-Store DJ. When emailing us please try to answer all of these questions so we can give you an accurate estimate.

email bookings@letsremixit.ca for a quote.
---
Can I use my own DJ with your equipment?
---
In some special cases it may be possible for you to use your own DJ as a guest of our DJ. That means that our DJ will still be at your event. This must be discussed many weeks before an event and a contract must be signed 10 business days prior to the event by the event organizer and the DJ.
---
How long does it take you to set up and teardown?
---
We like to set up a table and speakers an hour and a half in advance from when the DJ will start. When you add in lights, smoke, lasers ect... The set up time is longer.

Let us use this picture as an example. It can take 3 hours to build this. We will not do any event where we do not have a minimum of 3 hours to build this. When we have to tear it down we need 1 hour minimum. Set up and teardown fee's are included in the price quoted.
---
How much power does the venue need?
---
We will do a site survey of your venue.
For smaller set ups most venues have enough power but the best scenario is when a venue have a 30amp or 50amp plug like the picture below. Always ask your venue how much power there is and get us to verify it before you book with them. We have electricians in our crew and are supplied by Trimate Electrical Supply in Vaughan. The power is very important especially when you are running smoke machines, haze machines, dry ice machines.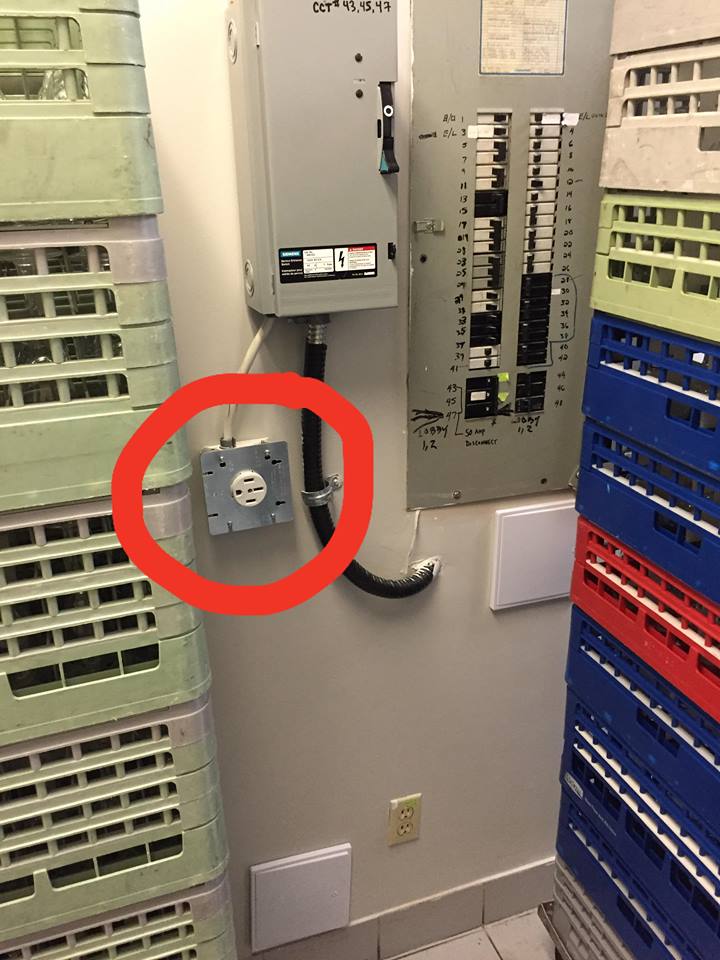 ---
Do you rent out your equipment?
---
In some special cases we will rent it out but we will deliver it, set it up and we will have one of our staff at your event. Example... Laser... The laser is very powerful and needs to be controlled by our lighting technician.
---
Deposit and remaining balance.
---
The deposit is due upon booking and is 30% non-refundable. You can pay via cash, interac e-transfer, paypal, certified cheque, credit card. The remaining 70% is due 2 business days prior to your event. This will all be in the contact.
---
Can we see you before we book?
---
Yes! You can come to see us in person when you book an appointment. We will show you the equipment and go through the music. It is better to pre-plan and know exactly what you want so we can make it happen!
---
Does the DJ act as the MC too?
---
No. We have 3 of the best voice MCs. Our DJs will not act as an MC. Just like the MC will not act as the DJ.
---
What if my DJ gets sick on the day of my event?
---
All of our DJs are experienced we were all club DJs for years and some are still working in clubs. In the case your DJ gets sick another experienced and qualified DJ will take the place of your DJ.
---
What services do you offer?
---
We have DJs, MCs, cool lights, lasers, smoke & sound. If you need a DJ or any of the above email us for an estimate. In-Store DJs, Corporate Parties, Weddings, School Dances...
---
---